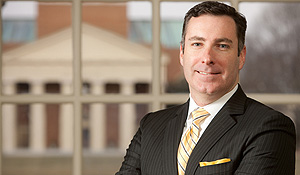 Chief Investment Officer Jim Dunn has been named to aiCIO's 2013 Power 100 List. This is the second year that aiCIO, an international finance magazine, has published its list of the 100 most influential asset owners. Dunn is one of only 10 endowment managers to make the list.
The list appeared in the magazine's October issue.
To compile the list, the magazine looks at positive trends in the industry, specifically risk-factor approaches, infrastructure investments and novel advances in risk management. The aiCIO team interviews industry professionals for their thoughts on these questions: Who are the CIOs leading the charge in these areas? Who is taking the risks that other, more timid CIOs, refuse to?
"Because we're benchmark agnostic and use a factor-based asset allocation model, we don't have traditional asset class 'buckets' to fill," Dunn said. "We are able to be creative and opportunistic in our investment choices."
Dunn also made aiCIO's Power List in 2012.