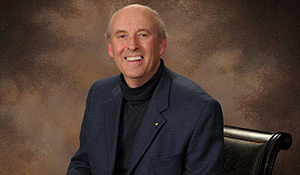 On Sunday, Oct. 6, the music of Dan Locklair will be featured in several different ways. Locklair is the composer in residence and a professor of music at Wake Forest.
Locklair has been the focus of the nationally syndicated American Public Media series "Pipedreams" this week with a two-hour show called "Unlocking Locklair," focusing on his music for organ. It will be broadcast in the Winston-Salem area on Sunday from 7-9 p.m. on WDAV (89.9 FM). It is also available on the web at any time by clicking here.
The show presents seven of Locklair's major works, including the first national broadcast of his Concerto for Organ and Orchestra (2010)  in a performance by the Eastern Festival Orchestra, Gerard Schwarz, conductor, with soloist Susan Bates.
Also on Sunday, Locklair's Hail the Coming Day (A Festive Piece for Orchestra) will be performed by the UNC Greensboro Symphony Orchestra at 3:30 p.m. at Aycock Auditorium on the campus. The concert is free and open to the public. For more information, call 336.334.5789 or visit http://performingarts.uncg.edu/events/calendar.
Hail the Coming Day is the result of a 2012 commission from the city of Winston-Salem in honor of the 2013 Centennial Celebration of the consolidation of the towns of Winston and Salem. This composition is in one movement, consists of five short sections, and is scored for a large orchestra of triple woodwinds, triple brass, strings and percussion. Read the composer's complete notes.
In addition, Locklair's Preces and Responses and Phoenix Processional will be performed at 5:30 p.m. as part of choral evensong at St. Paul's Episcopal Church (520 Summit Street) in Winston-Salem. This will part of the American Institute of Organ Builders convention.
Phoenix Processional for solo organ comes from a larger composition: Phoenix Fanfare and Processional for organ, brass quartet and percussion. The original three-minute Phoenix Fanfare was commissioned in 1979 by Union Theological Seminary in New York City for the February 1980 reopening and dedication of Union's renovated James Memorial Chapel. Read more about the piece.