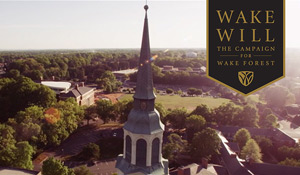 The following is a message from President Nathan Hatch:
Dear Faculty, Staff and Students,
Please join me today (Friday, Oct. 18) from 11 a.m. to 2 p.m. under the tent on Manchester Plaza to celebrate Wake Will: The Campaign for Wake Forest.
Wake Forest University and Wake Forest Baptist Medical Center will significantly increase our impact on the region, the nation and the world by investing $1 billion over the next five years to strengthen and renew our ability to carry out our respective missions. With the help of alumni, parents and friends, the University will invest $600 million in our students, faculty and enhancements to campus life. Wake Forest Baptist will invest $400 million in its mission of patient care, research and education through a complementary campaign to be shared with supporters in the near future.
Wake Will represents the largest mobilization of support for our mission in the institution's 179-year history.  More important, Wake Will is our promise to prepare students to lead lives that matter.
We have raised more than $315 million towards our $600 million campaign goal. The impact of financial gifts and commitments is being felt by students attending Wake Forest with the help of scholarships, by faculty exploring new avenues of research and by our entire campus community finding inspiration inside Farrell Hall.
Wake will create opportunity, educate the whole person and inspire excellence through several initiatives over the course of the campaign.
Wake will create opportunity by opening our doors to deserving students through an unprecedented commitment to financial aid. Once enrolled, students will reach their full potential with the help of cultural exploration, unique research opportunities and access to emerging career paths.
Wake will educate the whole person by investing in endowed faculty chairs, professorships and resources necessary to attract and retain top talent. Wake will balance our commitment to academic rigor with the presence of purpose, joyful relationships and healthy habits.
Wake will inspire excellence by enhancing the power of place. Our scenic campus is the home of championship trophies, Rhodes Scholars and entrepreneurial dreams. Our students will discover the ability to apply unimagined strengths in the pursuit of their passion.
The Wake Forest experience stretches far beyond the classroom walls. By creating an environment of excellence – through academic rigor, student programs and our physical spaces – we inspire excellence in our community of learning.
Now is the time to celebrate and grow the culture of philanthropy that makes the Wake Forest experience possible. I hope you will join me today at the campus celebration to learn more about our campaign plans. More information is also available at the campaign website, http://wakewill.wfu.edu, and through social media using #WakeWill.
Sincerely,
Nathan O. Hatch
President