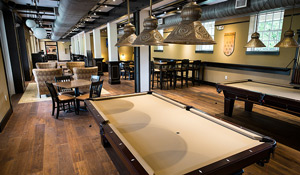 Opening on Thursday, Aug. 22, Zick's is the newest social space and dining destination on Hearn Plaza. Located on the first floor and basement levels of Poteat Residence Hall, it is likely to become a favorite hangout for students, faculty and staff. The menu includes pizzas, wings, salads, sodas, wine and beer.
With casual fare, comfortable chairs, several large television screens, pool and foosball tables, Zick's is a place to unwind. Few power outlets were installed to intentionally create a place to unplug.
Over the past year, 18 focus groups were conducted, numerous local downtown spots were toured and several universities in the region were visited, to see how Zick's could and should be designed. The two-level space has 4,286-square feet.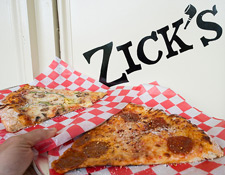 Zick's is named for Ken Zick, Wake Forest's longtime vice president for student life who retired from that role in June.
"Since Zick's is in the middle of campus, it will be a central spot for students, faculty and staff to build community and campus vibrancy, but also a space for downtime and relaxation," says Mary Gerardy, associate vice president and dean of campus life.
Hours:
Sunday – Thursday: 11 a.m.-12 a.m. (kitchen closes at 11 p.m.)
Friday – Saturday: 11 a.m.- 2 a.m. (kitchen closes at 11 p.m.)