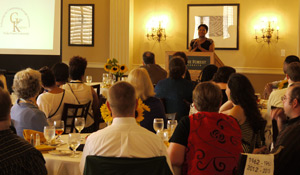 On June 10, members of the Wake Forest community gathered in the Magnolia Room for the Gatekeepers Recognition Ceremony. The event honored 109 faculty and staff that have completed the first three workshops in the Gatekeepers Workshop Initiative in the 2012-2013.
Created by Shayla Herndon-Edmunds, manager of diversity education for Wake Forest, the Gatekeepers Workshop Initiative enhances participants' cultural competence through tools and exercises that explore perception, various communication and conflict styles; value differences, stereotype threat, implicit bias, contact theory, among other phenomena that impact the engagement of faculty, staff and students on campus.
Provost Rogan Kersh and other University leaders spoke about the importance of cultural competence in building an inclusive community, while participants and internal trainers were celebrated for their efforts.
To date, more than 1,000 staff, faculty and students have attended the Gatekeepers 1 Workshop, "Enhancing Our Community Through Inclusion."
Check the Professional Development Center's website for Gatekeeper's courses available in 2013-14.