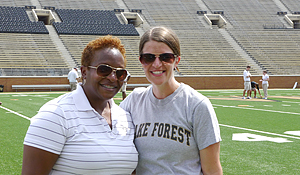 Whether you are an avid football fan or someone who just wants to learn more about the game, the 16th annual Wake Forest Women's Football Clinic promises to be an event that you won't want to miss! Please make plans to join us in Bridger Field House at BB&T Field on Thursday, July 18, from 6-9 p.m.for a truly memorable evening of fun and football.
The Women's Football Clinic offers women of all ages the unique opportunity to have some fun while learning the sport of football from Wake Forest's own football coaching staff. The Demon Deacon coaches strive to teach participants as much as possible about the game, from play formations, referee signals and play-calling strategy to how the team prepares to compete at the highest level of collegiate football week in and week out.
After participating in last year's clinic, Director of Development Angela Glover said, "I have a whole new respect for the players and the game. It's one thing to watch it and be an armchair quarterback. It's another thing to get in a stance and hold it for more than five seconds!" (Read more about last year's event.)
The cost is $30 per person. Proceeds benefit the Coach's Kids Program which provides underprivileged and at-risk children in the Piedmont-Triad area with tickets to home sporting events. Faculty & staff from Wake Forest University and Wake Forest Baptist Medical Center are eligible for a discounted rate of $20 per person.
It is recommended that all participants dress casually with athletic shirts, shorts and sneakers.
The deadline to register for the event is Monday, July 15, at noon. Reservations are limited to the first 250 women. Register online here »