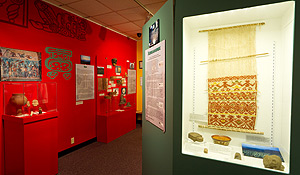 The Wake Forest Museum of Anthropology (MOA) is one of 13 local attractions participating in the second annual Forsyth Photo Adventure contest. Residents can enter to win the grand prize of a $250 VISA gift card by visiting any or all of the participating attractions and taking photos now through July 4.
"There are a lot of great places to visit in our area. We're encouraging people to visit these family-friendly attractions where you can learn, play, and just get out and enjoy what Forsyth County has to offer," said MOA staff member Sara Cromwell, who is also president of the Association of Visitor Attractions of Forsyth County (AVA), sponsor of the contest.
To enter, visitors must post their photos to each attraction's Facebook page. Entrants will be qualified to win individual prize packs awarded by each attraction, as well as the grand prize of the VISA gift card.  Each attraction will select their winner as the photo judged to best show "fun" at that attraction.
The Museum of Anthropology will award a MOA Friends family membership to its winner.  The Forsyth Photo Adventure's $250 winner will be randomly selected from the names of all official entrants posting at any of the attractions. "The more sites at which you post, the better your chances are to win the gift card," Cromwell said. In all, 13 prize packs will be awarded in addition to the selecting of a grand prize gift card-winning entry.
Participating attractions include Downtown Arts District Association (DADA), Historic Bethabara Park, Historic Bethania, Körners Folly, Museum of Anthropology, Old Salem Museums and Gardens, Piedmont Craftsmen, Reynolda House Museum of American Art, Sciworks, Southeastern Center for Contemporary Art (SECCA), Tanglewood Park, Visit Winston-Salem Visitors Center, and West End Historic District.
For more information on the event and the complete contest rules, visit www.forsythphotoadventure.com.
The Museum of Anthropology is open Tuesday to Saturday, 10 a.m. to 4:30 p.m. Admission is free.