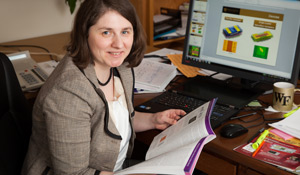 Assistant professor of physics Oana Jurchescu is breaking records and generating attention for the Center for Nanotechnology and Molecular Materials.
Her team's paper "High Mobility Field-Effect Transistors with Versatile Processing from a Small-Molecule Organic Semiconductor" records the highest electric conductivity for spray-coated organic field effect transistors in the world to date.
Jurchescu and fellow paper co-author Yaochuan Mei, who is also Jurchescu's graduate student, have been recognized by a slew of national and local media outlets for their work. Most recently on May 21, the Winston-Salem Journal ran an editorial specifically praising Jurchescu's research as being a big part of Winston-Salem's future. This story followed a Sunday business feature on recent work by Jurchescu's Organic Electronics Group.