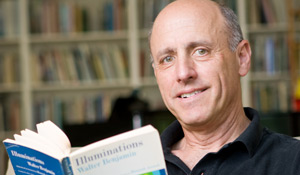 The National Gallery of Art has appointed Charlotte C. Weber Professor of Art David Lubin the William C. Seitz Senior Fellow for 2013-14.
The fellowship, offered by the Center for Advanced Studies in the Visual Arts, is one of the most competitive and prestigious in the broad field of art history. It primarily supports research on modern and contemporary art.
During his sabbatical, Lubin will have access to world-class art at one of the nation's premier art galleries and the Library of Congress — resources that will be vital as he continues working on his upcoming book examining World War I and how American artists responded to the upheaval in painting, drawing, photography, and film.
At CASVA, a leading center for art history activity, Lubin will be working with 20 international scholars and predoctoral graduate students, each focusing on a different research project.
"This is a great opportunity for me to work in a sustained way with the best and brightest," Lubin said. "Part of the benefit of the senior fellowship is the opportunity to mentor and learn from the most promising younger scholars in the field.  And when I need a break, I can walk to another area of the gallery and spend time with Raphael, Rembrandt or Titian."
Founded in 1979, CASVA is located in the National Gallery's famed East Building, designed by I.M. Pei. The Center fosters study of the production, use and cultural meaning of art, artifacts, architecture, urbanism, photography and film worldwide from prehistoric times to the present.
As a senior fellow, Lubin will reside in Washington from September 2013 through May 2014.
Read more about Lubin's work: Researching the iconic images of war