Main Content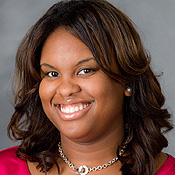 Lavi Wilson, Wake Forest's substance abuse prevention coordinator, and the WFU CHOICES program (Cultivating Healthier Opinions In Challenging Everyday Situations) have been awarded a grant from the Stacie Mathewson Foundation (http://www.staciemathewsonfoundation.org/) to support Wake Forest students in recovery.
The goal of the $10,000 grant is to connect these students with existing campus and community resources, provide substance-free social options, and create an on-campus network of support for students who are recovering from substance abuse and addiction.
"This grant is important to our community because it will assist in the support of Wake Forest students recovery by providing confidential assessments and recovery counseling services, educational workshops, seminars, programs, and links for students to on- and off-campus support services," Wilson said.
Cecil Price, the director of the Student Health Service, said: "Lavi is to be commended for her efforts to help all our students who struggle with substance abuse issues."
Recent Posts
May 22, 2020

May 20, 2020

May 19, 2020