Main Content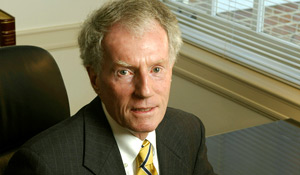 Louis Richard "Lou" Morrell, formerly vice president for investments and treasurer, died April 28 in Wilmington, N.C. He was 76.
Morrell served as vice president and treasurer from 1995 to 2007. In his last year as vice president, he was responsible for management and oversight of the University's $1.1 billion endowment fund and approximately $340 million in other investments. After stepping down as vice president, he continued managing select investments and overseeing the University's trust program in a new role, while remaining as treasurer until 2009.
Morrell wrote numerous articles and book chapters on higher education endowment and investment management and received two national awards for his contributions to the field. In 2006, Wake Forest was recognized for the management of its endowment and named the Savviest Nonprofit of the Year by Foundation and Endowment Money Management.
Morrell began his long career in higher education as controller and assistant treasurer at Smith College, before serving as chief financial officer at Rollins College and in a similar capacity at Radcliffe College.
He is survived by his wife, Ruth Ann; son Stephen; and two grandchildren. Memorials may be made to Wake Forest University, PO Box 7227, Winston-Salem, NC 27109, for scholarships, or to Wrightsville University Methodist Church, 4 Love Oak Drive, Wrightsville Beach, NC 28480.
Recent Posts
May 6, 2021

May 5, 2021

May 5, 2021