Main Content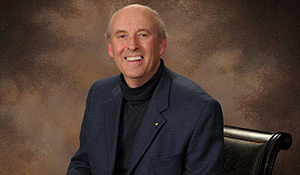 The Winston-Salem Symphony, under music director Robert Moody, will premiere Dan Locklair's "Hail the Coming Day" on Sunday, May 12, at 3 p.m. with a repeat performance on Tuesday, May 14, at 7:30 p.m. at the Stevens Center.
For tickets or more information, call 336.464.0145 or visit the symphony website. More information about Winston-Salem's Centennial Celebration is available here.
Locklair, a professor of music and the composer-in-residence at Wake Forest, was commissioned by the City of Winston-Salem to compose the piece in honor of the 2013 Centennial Celebration of the consolidation of the towns Winston and Salem.
The composition, "Hail the Coming Day," takes its title from an 1876 speech given by an early Winston leader. The piece, scored for a large orchestra, is about five minutes long and is written in one movement, which consists of five short sections.
The composition is meant to recognize the individual attributes of the towns of Winston and Salem as well as their unification. One of the sections aims to convey an aural representation of the mechanized energy of the Industrial Revolution in which the city of Winston was a leader with its production of tobacco, textiles and other items.
The heritage of the Moravians of Salem is celebrated in another section. Invoking a variant on the celebrated Moravian melody "Hosanna," Locklair represents the elegant simplicity of the early settlers of Salem.
In addition, Locklair's Instant Culture, a choral drama for SATB, soloists and piano, will be given two New Mexico performances by the Sangre de Cristo Chorale (Dr. Maxine Thevenot, Director) on Saturday, May 11, at 5 p.m. at Bethlehem Evangelical Lutheran Church in Los Alamos and Sunday, May 12, at 3 p.m. at 1st Presbyterian Church of Santa Fe. Read Locklair's complete notes about the piece at: http://www.locklair.com/wp/compositions/choral/instant-culture.
Locklair's music is widely performed throughout the U.S. and abroad.  His catalog includes symphonic works, a ballet, an opera, chamber, instrumental, vocal and choral compositions.
Recent Posts
May 22, 2020

May 20, 2020

May 19, 2020