Main Content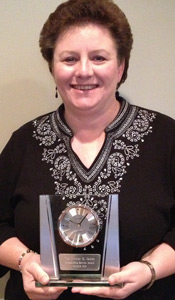 Dana Hutchens, the employer experience manager in the Office of Personal & Career Development, recently received the Furney K. James Outstanding Service Award from the North Carolina Association of Colleges and Employers (NCACE).
The NCACE Outstanding Service Award recognizes outstanding service rendered to NCACE by a member or former member of the Association. Recognition is for one or more of the following:
A significant contribution to NCACE through participation on committees or attendance at NCACE functions;
Demonstrated leadership in NCACE for a significant number of years;
Development of a new program or concept with a positive impact on the Association.
Recent Posts
May 22, 2020

May 20, 2020

May 19, 2020