Main Content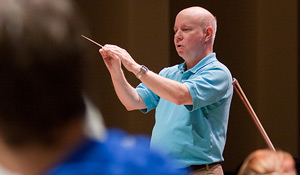 David Hagy, the Wake Forest orchestra conductor, will celebrate his 25th year as the conductor of the Salisbury Symphony on Saturday, May 18, by playing dual roles in a concert at Catawba College. The event will take place at Keppel Auditorium at 7:30 p.m.
Hagy will lead the orchestra in a "Double Your Fun" concert with pairs and trios, then he'll break out his violin and accompany Daniel Skidmore, the symphony's concertmaster, in Bach's Concerto for Two Violins.
Hagy was featured in the Charlotte Observer and on WFDD.
Recent Posts
May 22, 2020

May 20, 2020

May 19, 2020