Main Content
The Undergraduate REsearch and Creative Activities (URECA) Center has honored professor of chemistry Ron Noftle and professor of art history Harry Titus with its highest honors for faculty.
They recently won the inaugural URECA Faculty Awards for Excellence in Mentorship in Research and Creative Work in the Sciences and Humanities, respectively.
Click to read more about Noftle and Titus.
Ron Noftle, Professor of Chemistry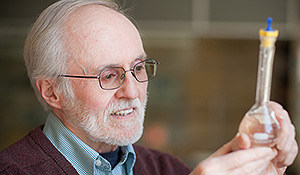 "Ron has set the bar for faculty-student engagement and mentorship, and he typifies the spirit of the 'teacher-scholar' ideal, especially through his one-on-one interactions with undergraduate (and graduate) students in the research laboratory," said Christa Colyer, chair of the department of chemistry. She describes Noftle's mentorship as both demanding and nurturing. "Ron is in the research lab, working side-by-side with his undergraduate students, in much the same way as a master craftsman leads the junior apprentice. He does not relegate day-to-day operations in the lab to a graduate student, but rather, assumes these roles himself, so that his undergraduate research students learn directly from him about the methods and ways and responsibilities of scientific inquiry."
Since Noftle came to Wake Forest with an expertise in inorganic chemistry in 1997, 64 different undergraduate students have had the opportunity to work with him on mentored projects. Sixteen of his many manuscripts have been published with undergraduate co-authors. His commitment to undergraduate mentoring was recognized in 2010 by his receipt of the Camille & Henry Dreyfus Senior Scientist Mentor Award, which provides stipend support for undergraduate research mentees.
Above and beyond these impressive and extensive undergraduate mentoring roles, Noftle is also engaged in numerous other mentoring-related activities at Wake Forest and beyond. For example, he has been actively involved as a graduate research advisor, building research teams of graduate and undergraduate students that model the collaborative style in which scientific research is conducted in the 'real world' today. He has served as a selection committee member for the Wake Forest Research Fellowship program, chaired the Conflicts of Interest Committee and participated in scientific outreach and public engagement. Currently he serves his professional community with distinction as an ad hoc reviewer for journals and funding agencies as a member of the Council on Undergraduate Research, and as an associate of the American Chemical Society's Committee on Professional Training, which is responsible for certifying undergraduate chemistry programs nationwide.
Harry Titus, Professor of Art History
When many think of mentored scholarship with undergraduate students, they may think it is more readily accomplished by scientists and social scientists who invite students into their labs. Titus did not accept that vision, nor would he allow his colleagues in the humanities to accept it. A trailblazer in mentored scholarship in the humanities, Titus led by example, showing not only how an art historian could include students in his research, but also why such experiences enhance student learning and faculty scholarship.
Titus' stewardship of student minds was on display in any course he taught, but also in the independent research he led and encouraged. His architectural research at the cathedral at Auxerre, France, often involved long summers with several students in tow. These young scholars could discover first-hand the complex and fascinating relationship of medieval history to religion and art.
While Titus worked closely with his students in France, he also understood when students were prepared to take on more independent projects. Thus, he led the Richter Scholarship program from its inception early in the last decade.  His countless hours promoting the program, questioning and supporting students, tending to minute and endless details, and showcasing superb annual reports produced, in his time, over one hundred international projects of substance that fulfilled the chief mission requirement of the Richter Foundation: to be "life changing."
In Richter, as in all his dealings with students, Titus never let undergraduates take the easy or sloppy route in thinking or planning. To those students who met purpose with purpose, seriousness with seriousness, and passion with passion, Titus was unmatched in his attention and support, during, and after, the project.  He demanded that his students reflect and write about their experiences so that they could articulate how and remember why these experiences transformed their lives.  The accord that Wake Forest is granted by the Richter Foundation owes to Titus' diligence, standards, and love for his students.
"A quarter-century later, I'm still telling people that Harry was one of my very best professors at Wake Forest; the truth is that he's one of the best teachers I ever had, period. Harry managed to offer a sweeping, informative, insightful course that never seemed rushed, and he constantly challenged — but never intimidated — his students," said Robert West ('91), Titus' former student who is now an associate professor of English at Mississippi State University. "There were times Harry believed in me more than I did, and there were gifts and skills that Harry credited me with that I wasn't so sure about—but that only made me want to live up to his perceptions."
Recent Posts
July 13, 2020

July 13, 2020

July 10, 2020