Main Content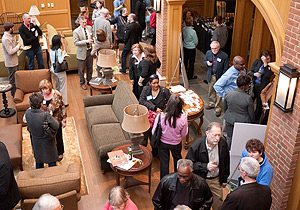 The Provost and the Office of Undergraduate Admissions invite faculty and staff to Thursdays at the Porter B. Byrum Welcome and Admissions Center on April 25.
A wine and cheese reception will run from 4-4:30 p.m., followed by a program from 4:30-5:15 p.m. that will feature Jac Heckelman, Herman Eure and Donna Henderson.
Heckelman, a professor of economics, will discuss estimating delegate votes and interests at the Constitutional Convention of 1787.
Eure, a professor of biology, will discuss what is referred to as The Diversity Impact Factor: 398 Years of Observations and Assessments at Wake Forest. Eure will compare Wake Forest's diversity issues from his arrival on campus in 1973 to those in 2013, while asking, "How does the diversity commitment today differ from the commitment 39 years ago and what can we expect in the future?"
Henderson, a professor of counseling, will discuss adapting processes to an online program delivery and how it has opened dynamic possibilities for the counseling faculty.
Recent Posts
May 22, 2020

May 20, 2020

May 19, 2020