Main Content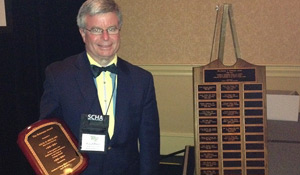 Dr. Cecil Price, director of the Student Health Service, recently received the Bohmann Award from The Southern College Health Association (SCHA). The award is the organization's highest honor, and it recognizes outstanding leaders who have established impressive standards for excellence and service both in the field of college health as well as in SCHA.
Price was lauded for his years of service at Wake Forest and his work as the coordinator of the Sunbelt Directors Meeting, a networking meeting of directors of student health services held each summer.
Price said he was surprised by the award as the Board of Directors of the SCHA on which he serves had kept his nomination and selection a secret until the presentation banquet.
"It was an honor to be selected by my peers at other universities in the Southeast for this award," Price said. "I've told those in attendance as well as those who've sent their congratulations that this award was a celebration of the good work of the great people who surround me at the Wake Forest Student Health Service."
Price received the award from its namesake, Dr. Charles F. Bohmann, on April 18 at the SCHA annual meeting hosted by the University of Alabama.
Recent Posts
May 22, 2020

May 20, 2020

May 19, 2020