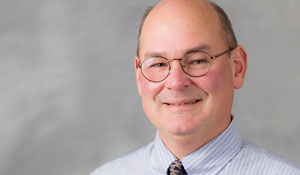 Bruce King, the associate provost for research, will be joining a distinguished group of university and private sector researchers on North Carolina's Board of Science and Technology.
Gov. Pat McCrory appointed King, a professor of chemistry at Wake Forest since 1995, to the position on March 28.
The Board has played an instrumental role helping the governor and state legislature to invest in public and private science initiatives since its formation more than 50 years ago.
An article in Time Magazine described the advisory group's formation under former governor Terry Sanford in 1961 as "indicative of the state's pool of more than 2,000 leading scientists and engineers whose services are available to any industry in North Carolina."
In recent years, the Board continues to support the creation of high-paying jobs in biomedicine, nanotechnology, and other high-tech fields. The scientific advisory group was responsible for the state's 2006 small business program that supports the commercialization of innovative technologies by North Carolina researchers.
King continues to teach organic chemistry and conducts research on the biological chemistry of nitric oxide. His work with the Translational Science Center and as head of the Synthetic Core Lab of the Wake Forest University Comprehensive Cancer Center provides him with valuable perspectives to the work of the Board, wrote A. Hope Williams, president of the Association of North Carolina Independent Colleges and Universities, in a letter to the governor's office recommending King's appointment.
King will be taking the seat of his friend and colleague Mark Welker, the William L. Poteat Professor of Chemistry.
King said he is honored by the appointment to the distinguished position.
"It is wonderful and important that Wake Forest continues to have a seat at the table that plays an integral role advising state government, and supporting innovative science and technology," King said.