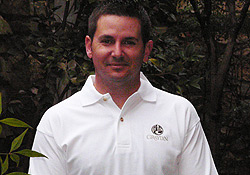 The Professional Grounds Management Society (PGMS) has announced that Kevin Cook of Wake Forest has become the 145th grounds management professional to successfully complete its Certified Grounds Manager (CGM) program. Cook currently serves as the lead groundskeeper at Graylyn International Conference Center.
"I wanted to become a CGM as part of my professional development at work, to further my education, and to become more established in the landscape field," Cook said.
After completing the two-part exam process,  Cook reflected on his thoughts about how the program has helped further his career.
"Through the CGM program I have made great contacts and working relationships with fellow professionals," he said. "I have learned a lot about our individual process and now have a documented representation of our procedures. Most of all, it has inspired me to focus on our sustainability efforts here in the Wake Forest community."
Read a full interview with Cook at http://pgms.org/kevin-cook-145th-cgm/. Those achieving the CGM professional designation must have first accomplished a set level of education and on-the-job experience and then successfully complete a two-part examination process administered by PGMS.
Founded in 1911, PGMS is an individual membership society of grounds professionals dedicated to advancing the grounds management profession through education and professional development. Further information on PGMS and its CCM program is available online at www.pgms.org.