Main Content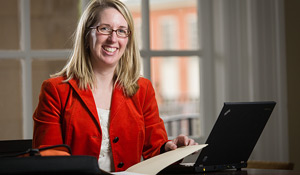 Paige Meltzer, director of Wake Forest University's new Women's Center, will speak at the next meeting of the Staff Advisory Council (SAC).
The SAC will meet from 9:30 a.m. to 11 a.m. on Feb. 26 in Benson University Center, Room 401 C/D.
Joining Meltzer in speaking at the meeting will be Barbee Myers Oakes, assistant provost for diversity and inclusion.
Wake Forest opened the Women's Center in January with Meltzer as director. (read more »)
Meltzer, who comes to Wake Forest from Harvard University, holds a doctorate in women's history and is an advocate for public policy initiatives that create a culture of inclusivity. She sees the Center as a place of collaboration and networking and plans to let campus constituents shape the Center's priorities. But she does anticipate promoting female leadership in student government and other campus organizations, professional development, and body wellness.
All University staff members are invited to meetings of the SAC.
Recent Posts
June 3, 2020

June 2, 2020

June 2, 2020