Main Content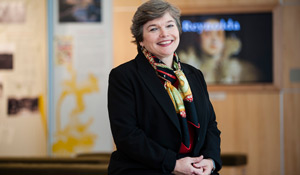 There's a new face at Reynolda House. Elizabeth Chew has been named the Betsy Main Babcock Director of the Curatorial and Education Division.
Chew comes to Reynolda House from Monticello, the historic Virginia estate of Thomas Jefferson, where she served as curator. She holds a Ph.D. in the history of art from the University of North Carolina at Chapel Hill.
"The story of Reynolda is much more than a local or regional story; Reynolda is an American story," Chew says. "I don't see Reynolda as an art museum in a historic house – or as a historic house with an art museum. It is one seamless and unique experience, and I want to help push those identities closer together."
Chew will provide direction and leadership for the development of interpretation, programming, education and research of the museum's collections and exhibitions. The collections of Reynolda House are comprised of the nationally acclaimed American art collection; the historic house collection, which includes decorative arts and costumes; and the archives.
"Elizabeth brings to Reynolda House and Wake Forest a wealth of experience. She is an established scholar widely respected by American historians and art historians alike, with the rare ability to translate deep academic analysis into significant knowledge and new understandings for all," says history professor Michele Gillespie.
The new senior level position is designed to advance the capacity of Reynolda House to serve local and national audiences.
Chew will lead the museum's research and program development plans to honor the centennial of historic Reynolda House and the 50th anniversary of the museum of American art in 2017.
Jay Curley, assistant professor of art, says Chew has top-notch experience in two areas important to Reynolda House: historic homes and art history. "Reynolda House is both a historic home and a museum housing a world-class collection of American paintings. Elizabeth will bring these two areas together in exciting ways that will address both the interests of Wake Forest professors and the larger regional, national and international community of museum visitors."
The director of curatorial and educational affairs is an endowed position at the museum, funded by the Mary Reynolds Babcock Foundation in memory of Betsy Main Babcock. Four staff members in this division will report to Chew: Director of Public Programs Phil Archer, Director of Archives and Library Todd Crumley, Director of Education Kathleen Hutton and Curator Allison Slaby.
"Elizabeth is passionate about engaging visitors in museums," says Allison Perkins, Reynolda House executive director. "Her unbeatable combination of expertise and experience working with American art and historic houses is an ideal fit for Reynolda House."
Recent Posts
May 22, 2020

May 20, 2020

May 19, 2020