Main Content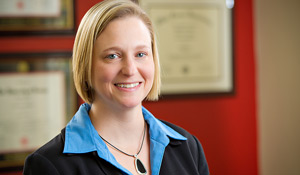 Allison E. McWilliams ('95), director of Mentoring & Professional Development at Wake Forest, has been elected to the International Mentoring Association's (IMA) Board of Directors. The IMA was founded in 1988 in response to the growing need for an organized forum focusing on innovative and effective mentoring ideas and practices.
"The IMA provides a wonderful model of a mentoring educational and resource network, which is very much core to the mission of the Mentoring Resource Center," McWilliams said. "We want to provide a clearinghouse of information, tools, and resources for the Wake Forest community, to enhance and support the work of those in mentoring relationships. In much the same way, the IMA provides information, support, and resources for its members.
Full board members serve a four year-term and are considered for their outstanding service to both the field of mentoring and the IMA.
"I'm enormously excited about and honored by this election, and I take it as a testament to the work of so many people on this campus," McWilliams said. "I hope to use my time on the board as a way to support the work that we are doing here."
Recent Posts
June 3, 2020

June 2, 2020

June 2, 2020