Main Content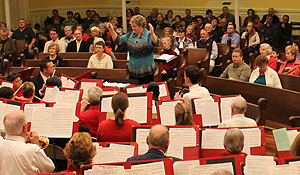 Several faculty and alumni took part in the Salem Band Holiday Concert on Dec. 18, 2012, at Home Moravian Church in Winston-Salem. The concert was mentioned in the Winston-Salem Journal's Sunday, Dec. 30, edition.
Salem Band raised more than $3,000 for Sunnyside Ministry at the concert. More than 430 were in attendance.
WFU Faculty and Alumni members of the Salem Band include:
Salem Band music director and conductor, Music adjunct instructor Eileen Young,
Salem Band principal percussionist, Music adjunct instructor Christina Hankins,
Salem Band concertmaster and principal clarinetist, John Jacob Eichhorn ('12),
Salem Band tenor saxophonist, alumna Elaina Taze Smith ('10).
Recent Posts
June 3, 2020

June 2, 2020

June 2, 2020