Main Content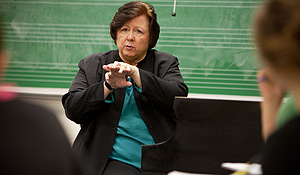 During the fall semester, professor Susan Borwick was elected President of the International Alliance for Women in Music, a global alliance of women and men working to increase and enhance musical activities and opportunities and to promote all aspects of the music of women.
The IAWM, founded in 1995 when three longtime societies merged, offers a semi-annual Journal, international competitions for composers (The Search for New Music) and scholars (The Pauline Alderman Awards), an Annual Concert, an International Congress of papers and performances every three years, and an active website, listserv and blog. The last two International Congresses were held in Flagstaff, Arizona, U.S., and Beijing, China.
Borwick says her new position allows her to work with creative musicians from throughout the world. The Fall 2012 Annual Concert presented works by nine women: Cuban, Japanese, English, Taiwanese, Canadian, and American; all but one attended the Baltimore event. Leading the IAWM draws from the whole of Borwick's backgrounds in music composition, theory, and musicology, along with women's and gender studies and administration.
"I'm honored to have some role in enhancing the well-being of professional women musicians and music around the globe," Borwick said.
Recent Posts
May 22, 2020

May 20, 2020

May 19, 2020