Main Content
Winston-Salem will eliminate left turns onto University Parkway at the exit gate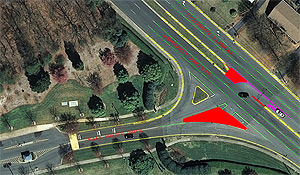 During the holiday break, the city of Winston-Salem will eliminate left turns onto northbound University Parkway at entrance of our campus to improve safety. This difficult intersection has had 45 accidents in the last five years, most recently involving a pedestrian Wake Forest student who was seriously injured when struck by a passing vehicle. This change will be effective sometime in January 2013.
"The Department of Transportation has determined that this intersection needed a redesign to improve safety and reduce accidents," said Jim Alty, associate vice president of Facilities and Campus Services.
The Winston-Salem department of transportation will change the concrete curb at the exit gate so vehicles leaving the University will no longer be able to turn left onto northbound University Parkway. All vehicles will be directed to turn right or southbound onto University Parkway.
Drivers who need to leave campus and head north on University Parkway are encouraged to use the Polo Road exit. By travelling through the light onto Long Drive, a safe left turn can be made at the intersection with University Parkway. Drivers who use the University Parkway gate will make the right turn, head south on University Parkway and then make a legal U-turn to head north.
The city will also lengthen the northbound University Parkway left turn lane, so more vehicles will be out of northbound traffic lanes during peak hours. This change will make for a smoother drive for vehicles heading north on University Parkway.
These changes will make this intersection more safe and easier to navigate in that section of University Parkway. Vehicles headed southbound will no longer need to check for drivers attempting a left turn as they exit our campus.
"We've asked in the past for a traffic light at this intersection," Alty said. "The City of Winston-Salem and the North Carolina Departments of Transportation have reviewed the request, but must follow guidelines that justify the installation of traffic lights. They have worked with us on the studies, but the density of traffic and pedestrians just does not meet the guidelines for a traffic light at this time."
Expect construction to begin on the intersection in this December-January time frame with the traffic changes effective in January 2013. As dates become more firm, more updates will be provided.
Recent Posts
July 2, 2020

July 2, 2020

June 30, 2020