Main Content
A message from Provost Rogan Kersh:
To our Wake Forest colleagues and friends,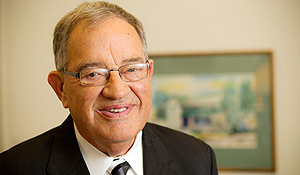 After 46 years of passionate and dedicated service, Ross Griffith will begin phased retirement from his position as director of Institutional Research on Jan. 1, 2013. Ross has served Wake Forest with untiring creativity, good humor, compassion and leadership through a variety of positions in his long tenure.
Ross received his undergraduate degree from Wake Forest in 1965 and soon thereafter began working as an admissions counselor in undergraduate admissions. He worked his way to assistant director and associate director over the next 11 years. He served as WFU's director of equal opportunity from 1977-84, supervising expanded recruitment and hiring of minority and women faculty and staff at both the Reynolda and Bowman Gray campuses, and working to expand accessibility for disabled members of our community and visitors to campus.
As assistant vice president for administration and planning, Ross directed facilities planning, including the design and construction of Worrell Professional Center for Law and Management and Benson University Center, while also serving as the Southeast Regional Representative of the Society of College and University Planning Board of Directors.
Since 1993, Ross has provided timely, accurate and essential data to university leadership as the director of Institutional Research, building that office into one of the most respected among colleges and universities in the region — as affirmed by the numerous awards won by his Institutional Research team. Even in this demanding role, Ross has maintained a close connection with students, as academic adviser to freshmen and sophomores; indeed, he received the 2010 "Excellence in Advising" award at Convocation.
He has also actively published articles on institutional research and other aspects of higher education. And as anyone who works on accreditation well appreciates, Ross has served tirelessly as our Accreditation Liaison, chairing the compliance committee for WFU's most recent accreditation by the Southern Association of Colleges and Schools — resulting in a perfect-score zero recommendations.
All who have the privilege of knowing and working with Ross experience his kindness, professionalism, intellect and passion for Wake Forest. With 46 years of continuous service, he is among the longest-serving full-time staff members in our university's modern history. His dedication to Wake Forest is genuinely remarkable, and his impact on our community is profound and enduring.
I am deeply grateful for Ross's varied and extraordinary contributions to Wake Forest over the past 46 years. We will recognize and celebrate his many achievements during the spring semester; please join me now in thanking him for his matchless (and continuing!) service.
Recent Posts
June 3, 2020

June 2, 2020

June 2, 2020