Main Content
At the Staff Awards Luncheon, Andrea Cox and Karen Frekko were named Employees of the Year.
Cox is the administrative assistant for Healthy Exercise and Lifestyle. Frekko is an associate director for the Schools of Business Information Systems.
Below are the comments read about them at the luncheon:
Andrea Cox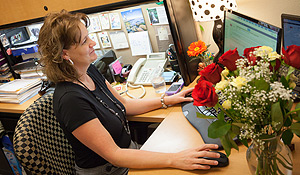 This employee has been a program coordinator for 20 years. She is the "glue" that holds the department together. She has been the constant, steady, positive factor, an extremely creative and loyal employee. To say that this employee does it all is a huge understatement! In addition to handling all the typical day-to-day requirements of her position, she is always looking for ways to improve the department program and is always ready and willing to take on new responsibilities. She is very organized, always comes through with everything she says she will do and is never late. She is an ultimate team player, helping everyone perform their jobs better, even before they ask. Without the formal skill set, she has experienced tremendous professional growth. She interacts with many individual and collective elements of this campus – a role that she is incredibly effective in. Everyone is always impressed by her skills and attitude. She is such an "ambassador" and presents such a positive "face" in her department.
Karen Frekko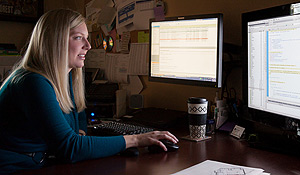 This employee consistently goes above and beyond her normal duties to provide new technology infrastructure. She has completed quite a few major website projects. She helped complete the redesign for the website by doing all of the programming for it. She modified the interview web application, which she developed. This application addressed the needs of the Winston-Salem and Charlotte programs. She also set up a new system that will allow students to submit recording requests when they miss class. This entire process saves the students, the faculty and the help desk numerous of man-hours.
She supports many Wake Forest-sponsored organizations and events. A former Chi Omega sorority sister at Wake Forest, she has served the sorority every year since graduating as an adviser during rush. She supports the student run Bio Tech and Marketing Summits in a variety of ways. She prepares network accounts for all the teams, she provides orientation to our classroom technology for the teams, she prepares the computers on which the teams present, and she helps lead the help desk team, which supports the audio and video recording and broadcasting for the event. Finally, she serves on the Staff Advisory Council for the university.
Recent Posts
July 14, 2020

July 13, 2020

July 13, 2020