The eighth annual Artisans' Fair will be held Tuesday, Dec. 4. The event will run from 11 a.m.-4 p.m. in Benson 401. Leading up to the event, Inside WFU is profiling some of the artists.
Meet Zella Johnson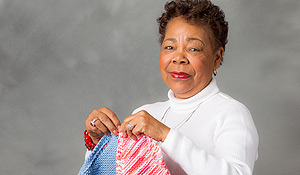 Position: retired, worked as administrative assistant for 30 years in biology department
Previous Artisans' Fairs: seven
What she likes best about the Fair: I like the idea of selling my dish cloths and the fellowship between people. I look forward to seeing my co-workers and faculty that I worked with.
Her products: Hand-knitted dish cloths. The yarn that I use is made especially for dish cloths. It is 100% cotton and you can put them in the washer and dryer and they last a very long time.
A little history: I started selling my dish cloths approximately seven years ago when they first started having the fair. It is a hobby of mine and I enjoy knitting.
Recent Posts
May 6, 2021

May 5, 2021

May 5, 2021