The eighth annual Artisans' Fair will be held Tuesday, Dec. 4. The event will run from 11 a.m.-4 p.m. in Benson 401. Leading up to the event, Inside WFU is profiling some of the artists.
Meet Renza Wallace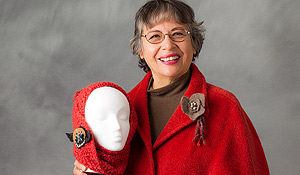 Position: Have been on the board of the Museum of Anthropology and taught Spanish in the Portals of Discovery program at Reynolda House Museum of American Art
Previous Artisans' Fairs: two
What she likes best about the Fair: Promotes creativity in the community
Her products: Textiles in Alpaca. I like to work with pre-Columbian designs and like to innovate garments into more useful pieces. I get the material from the source in Peru up in the Andes mountains.
A little inspiration: I have always enjoyed working with materials: colors, textures, designs and the way they feel.
Recent Posts
May 6, 2021

May 5, 2021

May 5, 2021