The eighth annual Artisans' Fair will be held Tuesday, Dec. 4. The event will run from 11 a.m.-4 p.m. in Benson 401. Leading up to the event, Inside WFU is profiling some of the artists.
Meet Lawrence Smith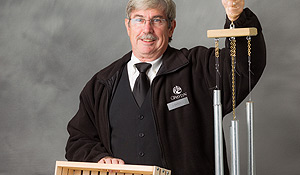 Position: transportation assistant at Graylyn
Years at Wake Forest: two
Previous Artisans' Fairs: four
What he likes best about the Fair: Making the project fun. Interacting with people. Adding to the mix.
His products: Bluebird boxes, food trays, tobacco stick stars, food trays, blankets.
A little history: I heard about the project, thought that I could add to it, and have fun doing so. The crafts are a hobby.
Recent Posts
May 6, 2021

May 5, 2021

May 5, 2021