The eighth annual Artisans' Fair will be held Tuesday, Dec. 4. The event will run from 11 a.m.-4 p.m. in Benson 401. Leading up to the event, Inside WFU is profiling some of the artists.
Meet Gale Newport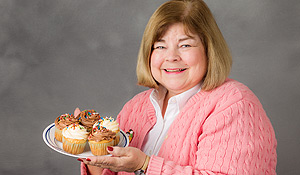 Position: I am the operations manager in the Benson University Center. In that capacity, I work with housekeeping, facilities and catering to ensure that the building is in good condition for students, staff and guests. I also do the event planning for Benson, scheduling (with help from a great staff) all meeting rooms. Last year, we scheduled more than 5,100 events! I supervise the student set-up crew who is responsible for all of the rooms in Benson. They keep very busy. I also schedule other venues – Reynolda Green Room, fields, President's Garage and the Barn. It is never dull!
Years at Wake Forest: 26+
Previous Artisans' Fairs: seven
What she likes best about the Fair: It is great to see all the talent on campus and to interact with everyone participating. It is fun to see so many people attend and to catch up with those folks you don't see very often.
Her products: I will be selling cupcakes, cakes and peppermint candy. They are fresh, homemade, delicious … and made with happiness.
A little history: My very first cake was for my son's sixth birthday – it was R2D2 from Star Wars. That son is now 35! I have enjoyed baking ever since, doing most family celebrations from birthdays to weddings. My younger son was married a few months ago, and I made the wedding cake, groom's cake and nine dozen cupcakes! It was a crazy few days prior to the big day, but so worth it. I also have made birthday cakes for co-workers, friends and students on campus.
Recent Posts
May 6, 2021

May 5, 2021

May 5, 2021