Main Content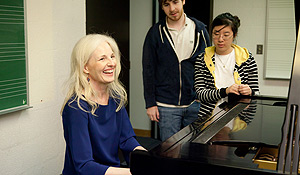 Pianist Pamela Howland, a part-time assistant professor in the department of music, recently returned from a 10-day tour to Poland sponsored by the U.S. Department of State/American Embassy and Smolna Association.
Howland was invited to screen her new documentary film "REMEMBERING FREDERIC: The Genius of Chopin" in Warsaw, Radom and Warka. While there, she also performed Chopin's music, gave master classes and presented her workshop called "MAKING OLD MUSIC NEW: Using a Multimedia Approach to Reach New Audiences" for Polish musicians and artists, along with her husband, Wendell Myers, who is an assistant professor of radiology at the School of Medicine and an artist.
Performance venues ranged from professional schools, such as the famous Frederic Chopin University of Music in Warsaw and the Oskar Kolberg School of Music in Radom, to community centers.
Recent Posts
June 3, 2020

June 2, 2020

June 2, 2020