Main Content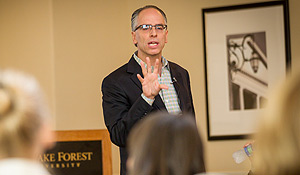 The Institute for Public Engagement and Wake the Vote are hosting "Showdown 2012: One Month Away," a discussion on Pro Humanitate and active citizenship led by Provost Rogan Kersh.
The event will be held in Kulynych Auditorium in the Byrum Welcome Center on Tuesday, Oct. 2, at 5:30 p.m.
As we head into the last month of the 2012 Presidential Election, there is increased interest by both political parties in engaging young voters. Young people between the ages of 18 and 29 represent 21 percent of all eligible voters in the United States.
Information on how to register and vote in the upcoming November elections will be available. Red, white and blue cookies will be served. Please attend and encourage students to attend this important event.
For more information, contact Norma-May Isakow, associate director, Institute for Public Engagement, 336.758.4021, isaknm@nullwfu.edu, Reyolda Hall, Room 305c.
Recent Posts
July 2, 2020

July 2, 2020

June 30, 2020