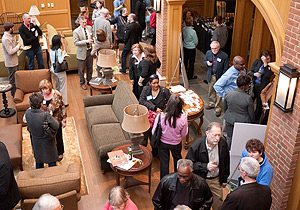 The Provost and the Office of Undergraduate Admissions invite faculty and staff to Thursdays at the Porter B. Byrum Welcome and Admissions Center on Nov. 1.
A wine and cheese reception will run from 4-4:30 p.m., followed by a program from 4:30-5:15 p.m. that will feature Jennifer Burg, Michael Sloan and Sean Hannah.
Burg, professor of computer science, will share curriculum material developed for interdisciplinary courses in digital sound and music, linking concepts, applications, and science at various levels of abstraction.
Sloan, assistant professor of classical languages, will discuss his new book, The Harmonious Organ of Sedulius Scottus, surveying the influence of the proto-humanist Sedulius in the Carolingian age and beyond through his reception and transmission of classical thought and texts.
Hannah, a professor of management, the J. Tylee Wilson Chair of Business Ethics, Schools of Business, and Colonel, U.S. Army-Retired, will discuss character and ethics in the business profession and on-going and future efforts in the Schools of Business to develop leaders of character who have the capacity to get results with integrity.