Main Content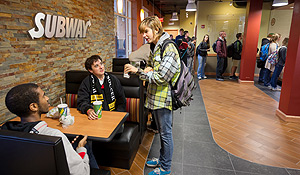 Without any official notification, when Wake Forest students saw the lights on inside the renovated Subway restaurant on Hearn Plaza Monday morning, they came pouring in. The extra space gained from the relocation of Wells Fargo bank to Benson University Center came in handy for students to stand in line completely inside the newly finished Subway and The Pod convenience store.
For the first two days (Oct. 8 and 9), the restaurant and store will operate from 10:30 a.m. until 9 p.m., then around the clock, seven days a week, beginning Oct. 10.
"We're set up with double registers, so we will be able to serve people in the Subway line with very little waiting," said David Raiger, resident district manager of Aramark. "That change, along with the 50 or so seats inside, offers students, faculty and staff much to enjoy about the new space, and is part of our efforts to enhance dining options on campus."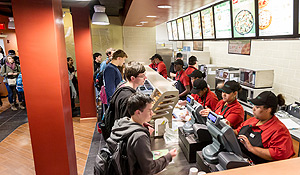 The new restaurant features a Coca-Cola Freestyle touch-screen drink dispenser, which features more than 100 fountain drink flavors. Moving over to The Pod, many refrigerated and frozen meal options are available, along with a selection of fresh fruit, snacks and drinks. One new addition is a f'real milkshake and smoothie machine that creates custom blended drinks on the spot.
Beginning Oct. 11, Shorty's in Benson University Center will remain open until 3 a.m., as part of this year's dining services enhancements. Last year, Shorty's closed at 11 p.m. The food court will resume regular hours.
More dining changes are expected in the fall 2013 semester when an Einstein Bros. Bagel shop in Farrell Hall and a new north campus dining center open. Read more in the Old Gold and Black.
Recent Posts
June 5, 2020

June 4, 2020

June 3, 2020