Main Content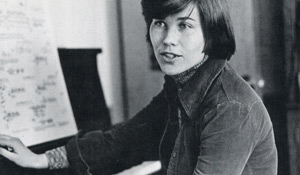 Former professor Annette LeSiege, who chaired the music department during an important transition period, has died.
LeSiege, who died on Aug. 26 in Marina, Calif., served on the faculty from 1975 to 1982 and was chair of the music department for much of that time.
She was an accomplished classical composer who wrote more than 70 pieces that have been performed throughout the U.S. and around the world. One of her compositions, "Confusion Breathes …" premiered at the dedication of the music wing of the Scales Fine Arts Center in 1982.
"She was a wonderful teacher, warm, compassionate and kind," said Professor of Music Teresa Radomski, who came to Wake Forest two years after LeSiege.
Radomski first met LeSiege at Eastman School of Music – where Radomski was an undergraduate and LeSiege a graduate student – in the 1970s. "She wrote the most beautiful, profound music. She was especially sensitive to settings of poetry into compositions," Radomski said.
When LeSiege joined the music faculty, construction was already underway on the art and theater wings of the Fine Arts Center, which opened in 1976. The music department continued to operate out of makeshift space in Wingate Hall for another six years.
The music wing finally opened in the fall of 1982 – shortly after LeSiege's departure – giving the music department the teaching, rehearsal and performing space it needed to flourish, said Provost Emeritus Edwin G. Wilson. "She came here at an important transition time for the music department," Wilson said of LeSiege. "She was a talented teacher, a gifted composer and an effective chair."
To mark the opening of the music wing, Wake Forest commissioned pieces by composers from Wake Forest, Salem College, Winston-Salem State University and the North Carolina School of the Arts. The four works premiered at a concert at the building's dedication on Sept. 2, 1982, in the Recital Hall, later named Brendle Recital Hall.
LeSiege's piece, "Confusion Breathes …", set to music a text by Cristal Williams, who was formerly the Baptist student minister at Wake Forest. It was conducted by music professor Dan Locklair and performed by Radomski (soprano), music professor Louis Goldstein (piano) and three musicians from the School of the Arts.
After leaving Wake Forest, LeSiege taught at New Jersey City University. She retired as an assistant dean and associate professor there in 2009. She moved to Maine and taught composition and liberal arts music courses at the University of Maine at Augusta.
LeSiege was born in 1947 in Oakland, Calif. She earned a MA in composition from San Jose State and a PhD from Eastman School of Music.
— by Kerry M. King ('85), Wake Forest Magazine
Recent Posts
July 2, 2020

July 2, 2020

June 30, 2020