Main Content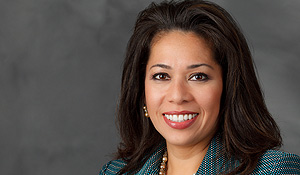 Chief Human Resources Officer Carmen Canales was selected to appear in the 11th annual "Women Worth Watching" issue of the Profiles in Diversity Journal. The issue highlights women executives who have demonstrated outstanding achievement and leadership in their careers.
Before coming to Wake Forest, Canales worked for Pepsi, Wachovia and Womble Carlyle Sandridge & Rice, PLLC. The issue highlights the impact of her Hispanic heritage on her career.
"As a bicultural Latina, being both Bolivian and Puerto Rican, I've learned different values from each of these cultures, with a common theme that relationships matter; it is important to celebrate both big and small successes; and to be fully present and loyal," she said in the publication. "As an HR professional, these qualities have especially helped me in my career, allowing me to focus on maximizing the potential of a diverse workforce."
Click here to view the story »
Canales is originally from Michigan and has lived in Winston-Salem for more than 18 years. She obtained a Master of Labor and Industrial Relations degree from Michigan State University and is fluent in Spanish. She serves on the Board of the United Way of Forsyth County, is a past Board member of the River Run International Film Festival, and has been actively involved with both the Arts Council of Winston-Salem and Forsyth County and the Hispanic League.
Recent Posts
June 5, 2020

June 4, 2020

June 3, 2020