Main Content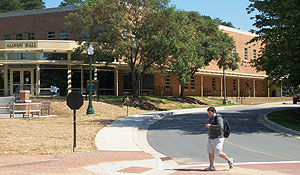 Now's your big chance to name a street on campus! During the construction of Farrell Hall, two new residence halls and a dining center, the realignment of Carroll Weathers Drive behind the construction left a short stretch of street ready for a new name.
The street runs between Alumni Hall (formerly University Services Building) and Worrell Professional Center. All students, faculty, staff and alumni are invited to submit nominations, but there are a few guidelines you must observe:
The street must be the name of a Wake Forest faculty or staff member who served with distinction and significantly contributed to the accomplishments and reputation of the University.
This employee must have served for at least 20 years on the Reynolda Campus.
The nominee must no longer be actively employed at Wake Forest University.
Think you know someone who should be honored this way? Visit the facilities website for more detailed information, a map and a history of some of the street names on campus. This is the first naming opportunity in more than 20 years, so make it count!
All nominations will be considered by the Capital Projects Planning Committee, and should be submitted by Oct. 31. The committee will make the final determination.
Recent Posts
May 30, 2020

May 29, 2020

May 29, 2020