Main Content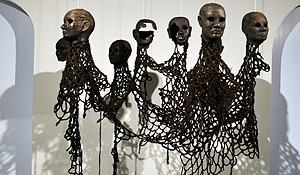 Lecturer in Art Leigh Ann Hallberg plans December opening for Revenants
With funding from the Hoak Family Fellowship, senior lecturer in art Leigh Ann Hallberg sculpted eight enormous iron heads with connective netting, then shipped them to Italy for a public art exhibition.
When speaking about the sculpture series, entitled Revenants, Hallberg frequently mentions the serendipity inherent in their creation.
She says that in casting, "the process was rudimentary and subject to happenstance, which I embrace as metaphor, and irregularities become part of the product."
However, when choosing a location for the Revenants' first exhibition, Hallberg left nothing to chance.
The Rocca Possente di Stellata, a fortress dating from the mid-1500s near Ferrara, Italy, seemed perfect. Its long history recalled for Hallberg the sculptures' ancient Roman inspiration, while its location along a border and site of frequent disputes echoed the theme of boundaries and permeability their hollow eyes and tentacle-like rope netting are meant to evoke.
She explains, "The heads symbolize humanity, and the nets both tie them together and allow permeability. They force viewers to reflect on the location's history and situate the viewer within that history."
When Hallberg finalized the location at the Rocca in May, she thought the four-year-long process of creating the Revenants was over. They were ready to be revealed in August of 2012.
Two days after Hallberg left Italy, on May 20, a 6.0 earthquake rumbled through the Emilia-Romagna region, toppling both ancient and modern buildings, claiming 24 lives, and cracking the foundation and roof of the Rocca di Stellata.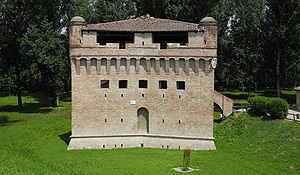 Although the Rocca escaped major damage, its location on a sandy riverbank and the continuous aftershocks and tremors rumbling through the region mean that the foundation is currently too unstable to host the exhibition of the Revenants.
"The last earthquake in that region had aftershocks lasting four or five years," Hallberg says, "and right now they don't have the finances for renovations."
Hallberg is scouting new locations in Ferrara for a December opening, including the Porta degli Angeli, a gate on the northern rim of Ferrara's old city wall, and the Museo Archeologico di Stellata, located in the house of Virgilio Ariosto, son of the famous 16th century poet Ludovico Ariosto, whose work "Orlando Furioso" mentions the Rocca.
After she completes one installation, she hopes that the sculptures can begin to tour Italy and perhaps even appear at her "dream venue," the museum at the Via Appia in Rome.
For now, she says, "The Revenants are in Italy, resting, waiting."
For more information and photos, see Leigh Ann Hallberg's website (http://lahallberg.com/).
— by Ann Bauer ('12), Intern, Communications & External Relations
Recent Posts
May 28, 2020

May 22, 2020

May 20, 2020