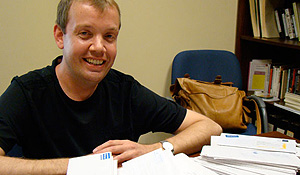 In northern Germany, people speak Low German — a dialect on the European Union's list of endangered languages. Assistant Professor of German Heiko Wiggers is spending the summer learning more about this language and how it is used in his home county of Grafschaft Bentheim.
Wiggers grew up speaking Low German, a name derived from the German lowlands where the language is spoken. Low German differs from High German, which is the official language of Germany that originated in the Alpine regions of the country, in vocabulary and pronunciation. All Germans speak High German, but Wiggers says only two million people still speak Low German. "People are not teaching Low German to the their children, and the long history of the language and its traditions and way of life are disappearing with it."
To learn more about the state of Low German in his home county and particularly whether Low German is used at the workplace, Wiggers mailed 435 surveys to businesses, restaurants and administrative offices in Grafschaft Bentheim and a neighboring county, with questions about when and where Low German is spoken at work. Now he's sorting through the responses. "The results are already showing that Low German is used quite often in northern Germany at work, in banks and for technical conversations. Because there are such a high number of respondents, the study will likely be of significance in answering questions related to social and cultural linguistics in German studies."
Wiggers joined Wake Forest in 2005. His is an expert in German linguistics, German dialects and Business German.
Recent Posts
June 17, 2022

June 17, 2022

June 15, 2022