Main Content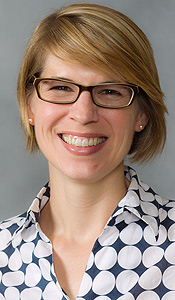 Morna O'Neill, an assistant professor of art history, has received a fellowship to the Yale Center for British Art from September through October 2012.
While at the Center, she will research the work of the English artist John Constable, in particular his publication of mezzotints after his work, Various Subjects of Landscape, Characteristic of English Scenery, from Pictures Painted by John Constable, R.A. which became known as English Landscape Scenery (1830-1832).
The Yale Center for British Art is a public art museum and research institute in New Haven, Conn., for the study of British art and culture. Presented to Yale University by Paul Mellon (Yale College, Class of 1929), the Center houses the largest collection of British art outside the United Kingdom.
O'Neill has also accepted an appointment as a National Humanities Center fellow for spring 2013. National Humanities Center Fellows come to the Center from 16 states and the District of Columbia, and also from Canada, France, Hungary, Japan and the United Kingdom. O'Neill was selected from among 436 applicants representing scholarship in history, literature, philosophy, anthropology, art history, classics, linguistics, musicology, religion, and Scandinavian studies.
She will continue work on a research project that examines the way in which display mediated the meaning of British fine art and decorative art at international exhibitions from the 1889 Exposition Universelle in Paris to the Exposizione Internazionale in Turin in 1911. She will have the opportunity to share ideas in seminars, lectures, and conferences at the Center.
The National Humanities Center, located in the Research Triangle Park of North Carolina, is a privately incorporated independent institute for advanced study in the humanities. Since 1978, the Center has awarded fellowships to more than 1,200 scholars in the humanities, whose work at the Center has resulted in the publication of more than 1,400 books in all fields of humanistic study. The Center also sponsors programs to strengthen the teaching of the humanities in secondary and higher education.
Recent Posts
June 3, 2020

June 2, 2020

June 2, 2020