Main Content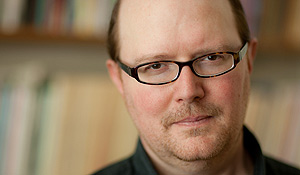 Associate Professor of English John McNally shared his thoughts on writer Ray Bradbury, who died June 5 at the age of 91. A story written by McNally is included in the forthcoming anthology Shadow Show: All-New Stories in Celebration of Ray Bradbury, edited by Sam Weller and Mort Castle (William Morrow).
"Ray Bradbury was that rare writer who broke new ground, who wrote in nearly every genre and for nearly every medium, and whose work has had a cultural impact that very few writers achieve. Although he's best known for his science fiction, speculation in a Bradbury story is always subterfuge for something much larger and deeper, and there's a good reason why his work has endured: His stories are, first and foremost, about people in crisis – people we care about…people Ray cared about.  Bradbury certainly taught me that the core of any good story, whatever its fantastical premise, is always the liabilities of the human heart."
McNally is the author of three novels and more than 50 published short stories. He is the editor or co-editor of six anthologies of short stories and essays.
Recent Posts
June 3, 2020

June 2, 2020

June 2, 2020