Main Content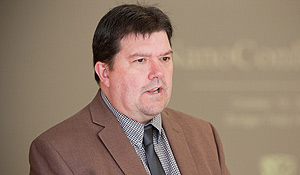 Recently David Carroll, director of the Center for Nanotechnology and Molecular Materials, was named editor-in-chief of the Journal of Biosensors & Bioelectronics. Carroll also serves as editor-in-chief of the journal Engineering. Both journals are open source, providing a rapid turnaround time for reviewing, publishing and disseminating the articles freely for research, teaching and reference purposes.
Carroll says that given the devastating impact that the cost of journals has had on university libraries across the country, researchers in the Center for Nanotechnology and Molecular Materials felt it important to take a leadership role in promoting and using open-access journals.
"In many ways, it's befitting of our motto: Pro Humanitate," he said. "Through these two very popular open-source journals with worldwide circulation, WFU Nanotech aims to make scientific discovery truly available to the masses."
Recently The New York Times Magazine named Power Felt, a breakthrough thermoelectronic technology developed in the Nanotech Center, first among "32 Innovations That Will Change Your Tomorrow." Read more about Power Felt, and the other top science stories at Wake Forest during 2011-2012 academic year, here.
Recent Posts
June 3, 2020

June 2, 2020

June 2, 2020