Main Content
For more than 12 years, the Graylyn Conference Center has worked with exceptional children  through the Community-Based Vocational Training Program of the Winston-Salem/Forsyth County Schools. Management at Graylyn has committed resources, staff and time to train students and allow them to explore careers in the food and banquet industries.
Earlier this year, Graylyn's dedication to the partnership led to a state-wide award.
The Council for Exceptional Children North Carolina Division on Career Development and Transition (CEC – NCDCDT) recognized Graylyn as its Employer of the Year for its commitment to promoting and providing employment opportunities to students with developmental disabilities.
"The staff and management at Graylyn have always treated our students with respect," said Sandra Courtner, who is a job coach responsible for providing training on the job in the Occupational Course of Study Program for the W-S/FC Schools. "They give them the extra time to learn the skills required to perform their job duties. The supervisors show tremendous patience when training the students and take extra time if needed to help them do their best."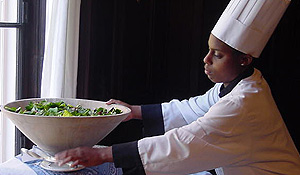 The program places a new crew of students at Graylyn each semester, with the center holding a minimum of three positions for Occupational Course of Study students. The students are paid and also receive credit toward a high school diploma. Students work in a number of roles, including conference set-up, groundskeeping, laundry, housekeeping, buffet attendants and kitchen assistants.
"This is such a wonderful program," said Christy Lennon, a Senior HR Partner who coordinates the program for Wake Forest. "The students learn so much about what real work is all about, and they teach the staff at Graylyn about kids with developmental needs. By the end of the semesters, you can see how both job skills and interpersonal skills have developed."
Overall, Wake Forest places about 25 students a year at Graylyn and throughout the Facilities & Campus Services department.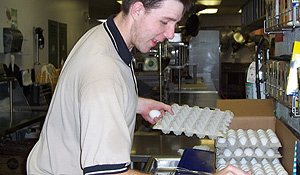 Graylyn isn't just committed to helping individuals when they are students. Seven former students have received job offers for permanent positions, and two former students are currently employed at the conference center.
Courtner said that Graylyn gives the students more than just an opportunity to experience life in the working world: "The entire staff welcomes the students and treats them as co-workers and equals, providing natural support as they learn technical skills and become more employable."
Recent Posts
June 5, 2020

June 4, 2020

June 3, 2020