Main Content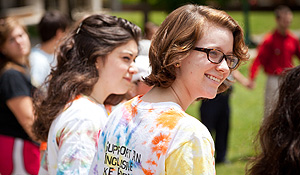 Wake Forest students, staff and faculty held a 5-Minute Stand For Solidarity on Manchester Plaza (the Mag Quad) on Thursday in response to North Carolina voters passing Amendment One, which defines marriage in the state constitution as between one man and one woman, and bans any other type of "domestic legal union" such as civil unions and domestic partnerships. The event was organized by the Gay-Straight Student Alliance.
See a Flickr photo gallery of the event »
"I am heartened by the love, support, and activism I have seen across our campus, our community, and our state these past few months," said Angela Mazaris, the director of Wake Forest's Lesbian, Gay, Bisexual, Transgender, Queer and Questioning Center. "I am inspired by the hours that members of the campus community spent writing letters, making phone calls, fasting, protesting, working the polls, and having meaningful conversations with people in your dorms, your families, and your organizations."
Mazaris emphasized that support is available across campus.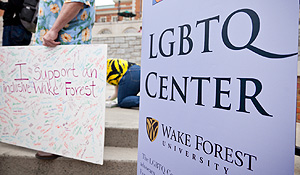 "There are many other campus resources available to you as well, including the Counseling Center, the Chaplain's Office, and the Office of Multicultural Affairs," she said. "I am happy to work with any of you individually to find someone who can give you the support you need.
"You are loved and supported by people all across the Wake Forest community. Drop by the LGBTQ Center to see the messages of love that people have left on the door."
In addition, Chief Human Resources Officer Carmen Canales announced that Wake Forest's continued commitment to a welcoming and diverse campus community remains intact.
"The University has shown this support by extending health and welfare benefits to same sex domestic partners and their children for more than twelve years," she said. "This policy remains unchanged and we continue to explore benefit options that support our entire campus community."
Recent Posts
June 5, 2020

June 4, 2020

June 3, 2020