Main Content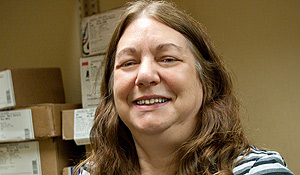 Meri Silveri, a supervisor for Wake Forest Mail Services, has been named the Mail Manager of the Year for the Southeast region by the College and University Mail Services Association.
Silveri, who has worked at Wake Forest for more than 28 years, was honored for her work with the Wake Forest team during several transitions during the past seven years. The latest involved a merger of the mail operations on the Reynolda and Bowman Gray campuses.
"I don't think this merger would have been possible without the help and support that Meri gave over the past year," said Dave Pitts, the director of Mail Services for the Medical Center and for Wake Forest in nominating Silveri. "Meri's constant inspiration and motivation that has kept staff together and focused on the bigger picture."
The CUMSA Mail Manager of the Year Award is given to an individual who has:
contributed to CUMSA in the past year, in an exemplary manner;
contributed to their institution's Mail Services Department;
and contributed by their inspiration and continually inspires all around them.
Pitts said: "Meri has not only been a supervisor to her staff, but almost a mother or sister."
Recent Posts
June 5, 2020

June 4, 2020

June 3, 2020