Main Content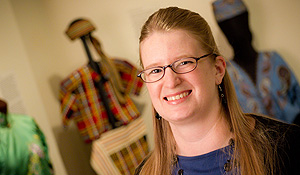 Local residents have the chance to win a new iPad2 just by visiting local attractions, including Wake Forest's Museum of Anthropology, and snapping a few photos between now and May 13.
Visitors who post their photos to the attractions' Facebook pages will be entered to win prize packs to be given away by each participating attraction and the grand prize of an iPad2 tablet computer.
"There are a lot of great places right here within a short drive of everyone in our area. These are family places where you can learn, play, and just get out and enjoy what Forsyth County has to offer," says Sara Cromwell, president of the Association of Visitor Attractions of Forsyth County, the sponsor of the event.
Cromwell also is the Public Relations, Marketing & Membership Coordinator at the Museum of Anthropology.
Participating attractions include Downtown Arts District Association (DADA), Historic Bethabara Park, Historic Bethania, Körners Folly, Museum of Anthropology, Old Salem Museums and Gardens, Piedmont Craftsmen, Reynolda House Museum of American Art, Sciworks, Southeastern Center for Contemporary Art (SECCA), Tanglewood Park, Visit Winston-Salem Visitors Center, and West End Historic District. For more information on the event and the complete contest rules, visit www.forsythphotoadventure.com.
At the contest's conclusion each of the participating attractions will pick a winner from among photos posted at their Facebook pages.  The photo that is judged to best show "fun" at each attraction will win a prize from the location.  The Forsyth Photo Adventure's iPad winner will be randomly selected from the names of all official entrants posting at any of the attractions. "The more sites at which you post, the better your chances of winning the iPad," Cromwell says.
The contest coincides with National Tourism Week, May 5-13, an initiative of the U.S. Travel Association.  Travel and tourism in North Carolina generates approximately $22 billion in total economic demand and employs more than 350,000 people.  Cromwell said, "We believe that this contest is a good way to encourage people to become more familiar with their local area, but also to demonstrate the value of the tourism industry."
Recent Posts
May 30, 2020

May 29, 2020

May 29, 2020