Main Content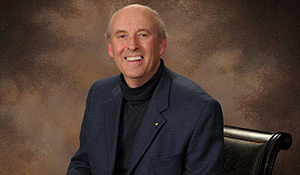 Dan Locklair's music will be performed in England and Japan in the next few days. Locklair is the composer-in-residence and a professor of music at Wake Forest.
On May 17, Locklair's Phoenix Processional for solo organ will be performed by Margaret Chen at 12:15 p.m. in the Main Hall of Suntory Hall, Akasaka 1-13-1, Minato-ku in Tokyo, Japan. This will be part of the Organ Promenade Concert Series.
Phoenix Processional comes from a larger composition entitled Phoenix Fanfare and Processional for organ, brass quartet and percussion. The original three-minute Phoenix Fanfare was commissioned in 1979 by New York City's Union Theological Seminary. In August of 1985, the scoring of Phoenix Fanfare was reduced to brass quartet and joined with a newly composed processional to become Phoenix Fanfare and Processional. It was first performed at the September 1985 Opening Convocation at Wake Forest. The organ solo version of Phoenix Processional was created by Locklair in 1996. It has been recorded by Marilyn Keiser for the Gothic/Loft CD "The Music of Dan Locklair" (LRCD-1110).
On May 20, Locklair's Dance the Joy! for solo organ will be performed at 6 p.m. as part of the choral evensong service at St. Pancras Church on Euston Road in London, England. This will be presented by the London Festival of Contemporary Church Music.
Dance the Joy! (Toccata for Organ) was written in 2004 on a commission from United Music Publishers and is included in their Organworks! publication, produced in cooperation with Subito Music. Locklair is the only American whose music will be performed at the 2012 London Festival of Contemporary Church Music.
Recent Posts
June 5, 2020

June 4, 2020

June 3, 2020