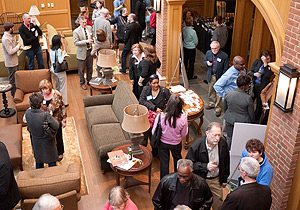 The Interim Provost and the Undergraduate Admissions Office invite faculty and staff to Thursdays at Porter B. Byrum Hall (the Welcome and Admissions Center) on April 26.
A wine and cheese reception will run from 4-4:30 p.m., followed by a program from 4:30-5:15 p.m. that will feature Ajay Patel, Tanya Marsh and Jim Dunn.
Patel, professor and GMAC Chair in Finance at the Schools of Business and the director of the Center for Enterprise Research and Education (CERE), will share initial findings on CERE's research in Nicaragua.
Nicaragua is the poorest country in Central America, with an economy hobbled by international debt, rickety legal and governmental systems and vast unemployment. Yet at the broad bottom of the economic pyramid, where almost 80 percent live on two dollars a day or less, and just above it, entrepreneurial activity is active, determined and resourceful.
There are many in the national and international domains who would like to see the micro and small enterprises that are percolating in Nicaragua become engines of economic and social change. Wake Forest, which annually sends teams of students from the College, and the Schools of Business, Law, Medicine and Divinity to Nicaragua on educational and service missions, is just one of many groups of students, faculty, companies, NGOs, not-for-profit organizations, and governments who seek to help.
But, what is helpful? What is needed?  What actions foster sustainable growth and change?
CERE set out three years ago to answer these questions though research partnerships in Nicaragua. Faculty associated with CERE crafted and launched part one of a two-part survey that offers interdisciplinary assessments of micro-to-medium sized enterprises. The goals of the longitudinal study are to (1) create a tool that describes the landscape of entrepreneurship at a relatively granular level, and identifies factors that inhibit or promote success, (2) assist in the development of training programs that are effective and culturally appropriate, and (3) train-the-trainers in Nicaragua to ensure that the program is sustainable.
Today at Thursday's at Byrum, Patel will present findings on:
• the role of gender and education on the career motivations of the entrepreneur in Nicaragua
• access to and use of training and microcredit
• the performance of Nicaragua businesses
• information on why well-intentioned business training programs often miss the mark
Other presentations at Thursdays at Byrum
Marsh, an assistant professor of law, will discuss the tensions between commercialism, regulation, religious belief, and individual choice in the modern American cemetery.
Dunn, chief investment officer, will discuss the Wake Forest Office of Investments.