Main Content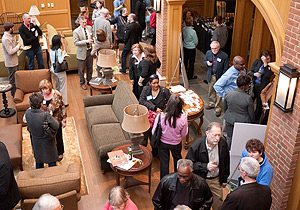 The Provost and the Undergraduate Admissions Office invite faculty and staff to Thursdays at Porter B. Byrum Hall (the Welcome and Admissions Center) on March 8.
A wine and cheese reception will run from 4-4:30 p.m., followed by a program from 4:30-5:15 p.m. that will feature David Lubin, Peter Kairoff and Morna O'Neill and Allison Slaby.
The event also will serve as a kickoff for the Arts Council campaign kickoff, so there will be remarks by David Finn, WFU campaign chair and professor of art; Nathan Hatch, WFU president; Leon Porter ('78), campaign chair; and Milton Rhodes, president and CEO of The Arts Council.
Lubin, Charlotte C. Weber professor of art, will discuss an essay he's writing on oil money and oil painting for an exhibition co-organized by the Dallas Museum of Art and the Amon Carter Museum of American Art to mark the 50th anniversary of the JFK assassination.
Kairoff, professor of music, will discuss and perform The Keyboard Suites of J.S. Bach.
Morna O'Neill, assistant professor of art history, and Allison Slaby, managing curator, Reynolda House Museum of American Art, will discuss their collaboration on the current exhibition, "Domestic Bliss: Art at Home in Britain and America, 1780-1840."
Recent Posts
May 30, 2020

May 29, 2020

May 29, 2020